GreenGold CBD Drops
CBD Extract from organic hemp flowers
GreenGold CBD Drops
CBD Extract from organic hemp flowers
GreenGold CBD Drops
CBD Extract from organic hemp flowers
GreenGold CBD Drops
CBD Extract from organic hemp flowers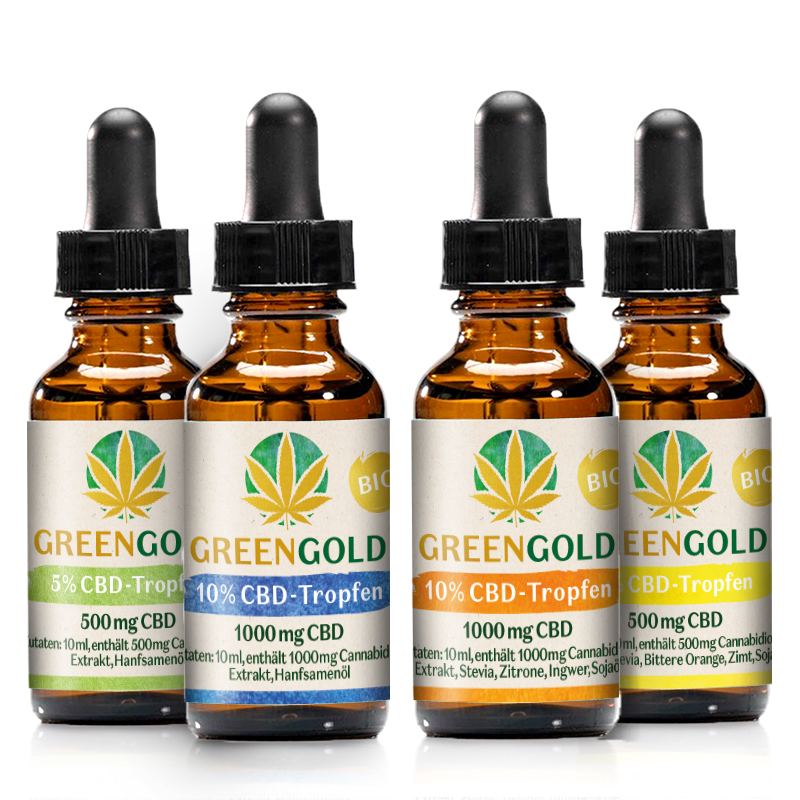 On the estate of the Golden Oaks, at the foot of the mountain "La Verna" in Tuscany, where St. Francis of Assisi spent the last years of his life in unity with nature, we have been growing hemp over the last three years, Cannabis Sativa, and extracting CBD from its flowers.
CBD is the abbreviation for cannabidiol and is an active ingredient found in the flowers of the female hemp plant Cannabis Sativa. Cannabis contains many different active ingredients, THC and CBD being the most well-known.
Unlike THC, CBD is not psychoactive and has extremely positive effects on our health. Through the body's own endocannabinoid system, receptors in the nervous system are addressed and thus CBD can unfold its effect throughout the human organism.
What effect does CBD have on our body?
CBD has a regulating, supporting and restorative effect. According to studies, CBD can compensate the imbalance in the body and successfully give relieve to physical problems. It has an anti-inflammatory and pain-relieving effect, it is calming and reliefs anxiety.
CBD helps with stress, helps you sleep, can lighten up depression moods and help with stomach upset, can have a positive effect on type 2 diabetes, has a positive effect on blood pressure, relieves palpitations, relaxes the body, is helpful with nausea and vomiting, can help with acne and much more.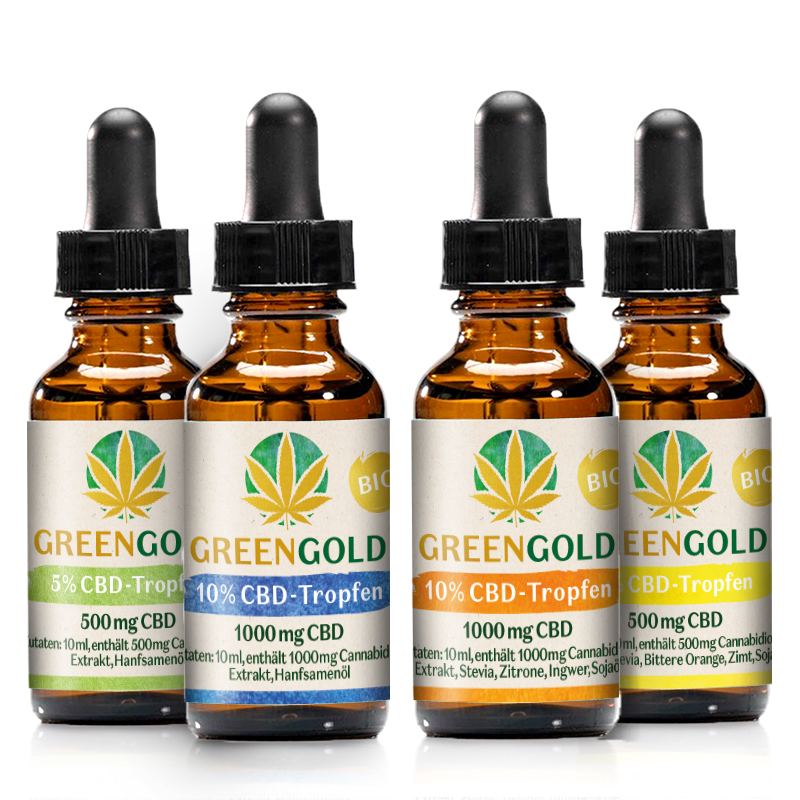 The CBD drops are extracted from our home-grown Cannabis Sativa plants, whose natural THC content is well below the legally required 0.2%. Therefore, any narcotic effect caused by the consumption of the product is excluded.
One bottle contains 10ml of CBD oil, which is about 200 drops. The recommended daily dose corresponds to 50mg CBD, one drop contains 2.5mg to 15mg CBD depending on the percentage concentration of the CBD extract. We recommend starting with a small dosage and increasing the number of drops until the desired effect is achieved. The drops are intended for sublingual use, for best results keep the drops under the tongue for one minute.
Which CBD oil is the right one for me?
CBD drops in soybean oil have a very pleasant, slightly sweet taste. They are therefore also very popular with children. The 5% extract is flavored with "Bitter Orange and Cinnamon" and therefore reminds a little bit of Christmas, whereas the 10% drops are flavored with "Lemon and Ginger" and have a refreshing taste. Due to the special extraction method, this product contains only CBD but no THC.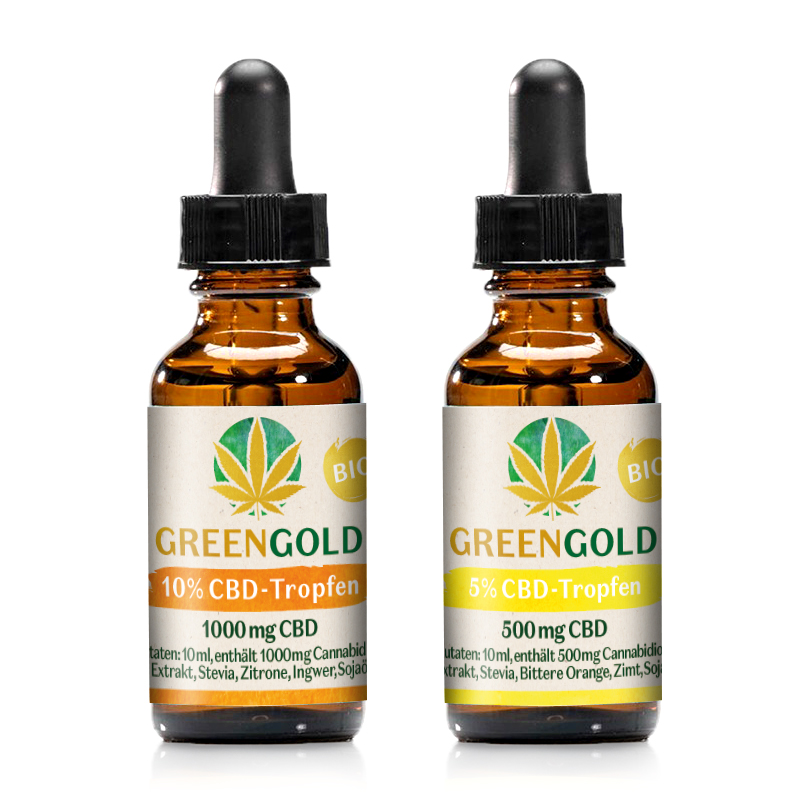 CBD drops in hemp seed oil have a slightly bitter taste, but they have the advantage of many other ingredients of the hemp plant. It is a natural, organic full spectrum oil and is our personal favorite. Besides many other active ingredients, this product also contains 0.2% THC.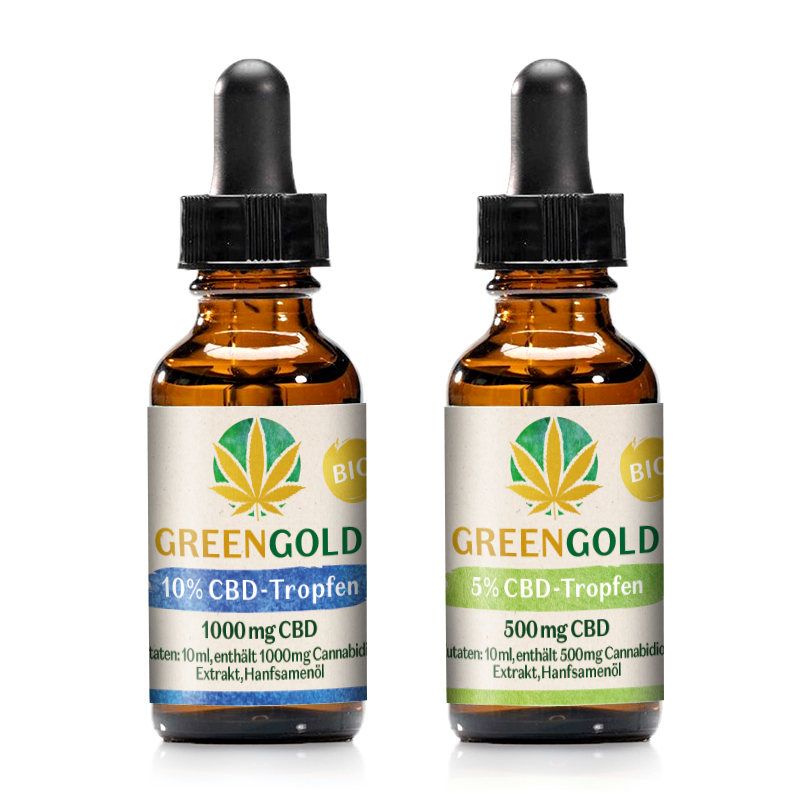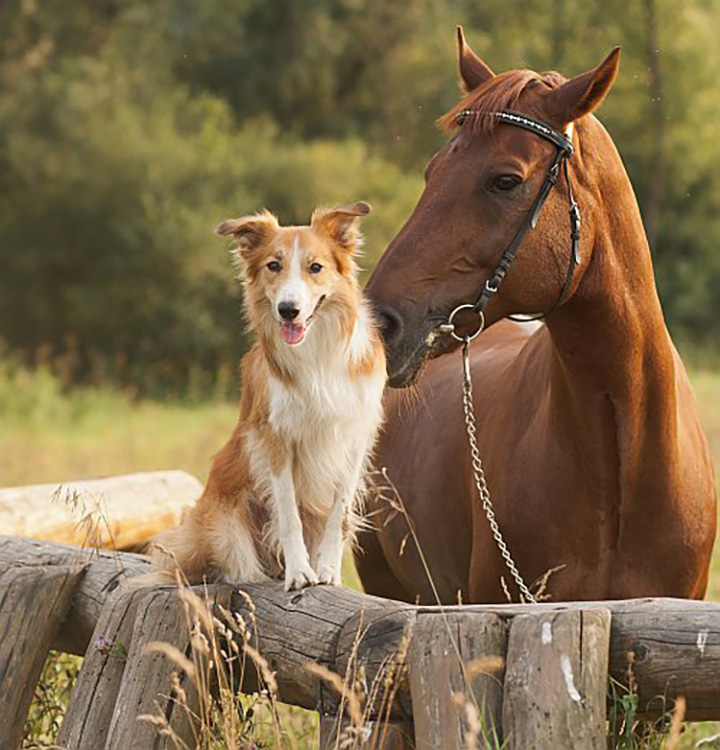 Also animals have an endocannabinoid system and the use of CBD drops can have many positive effects on the well-being of our four-legged friends. In moments of fear or stress, CBD can provide more peace and balance.
CBD actively supports the body in all functions, the animal becomes calmer and more relaxed, stress levels are reduced, pain is alleviated, the immune system is supported, neurological functions are improved and much more.
Animals become more balanced and happier all around through CBD. The application is like with us humans by a few drops under the tongue and the effect is mostly immediate. For dosage we recommend to approach slowly until the desired results are achieved.